About Us
Aung Myittar Co.Ltd is a stationery writing tool manufacturing company. We established our companies in 1992 by importing semi-finished products and doing assembly at Myanmar. In 2007, Aung Myittar has started manufacturing pens by importing raw plastic resins and writing fluid ink. Currently, we are the assigned distributor at Myanmar for stationery brands including Zebra Writing Stationery, SDI Office Supplies, Polar Bear Adhesive Tapes and Parker Premium Gift Pens. We are the owner of stationery brands including Noti and Super Reynolds, which are well-known brands for local Burmese. Aung Myittar Co. Ltd is a family owned medium enterprise company that has a distribution office, manufacturing facilities, and an assembly production factory.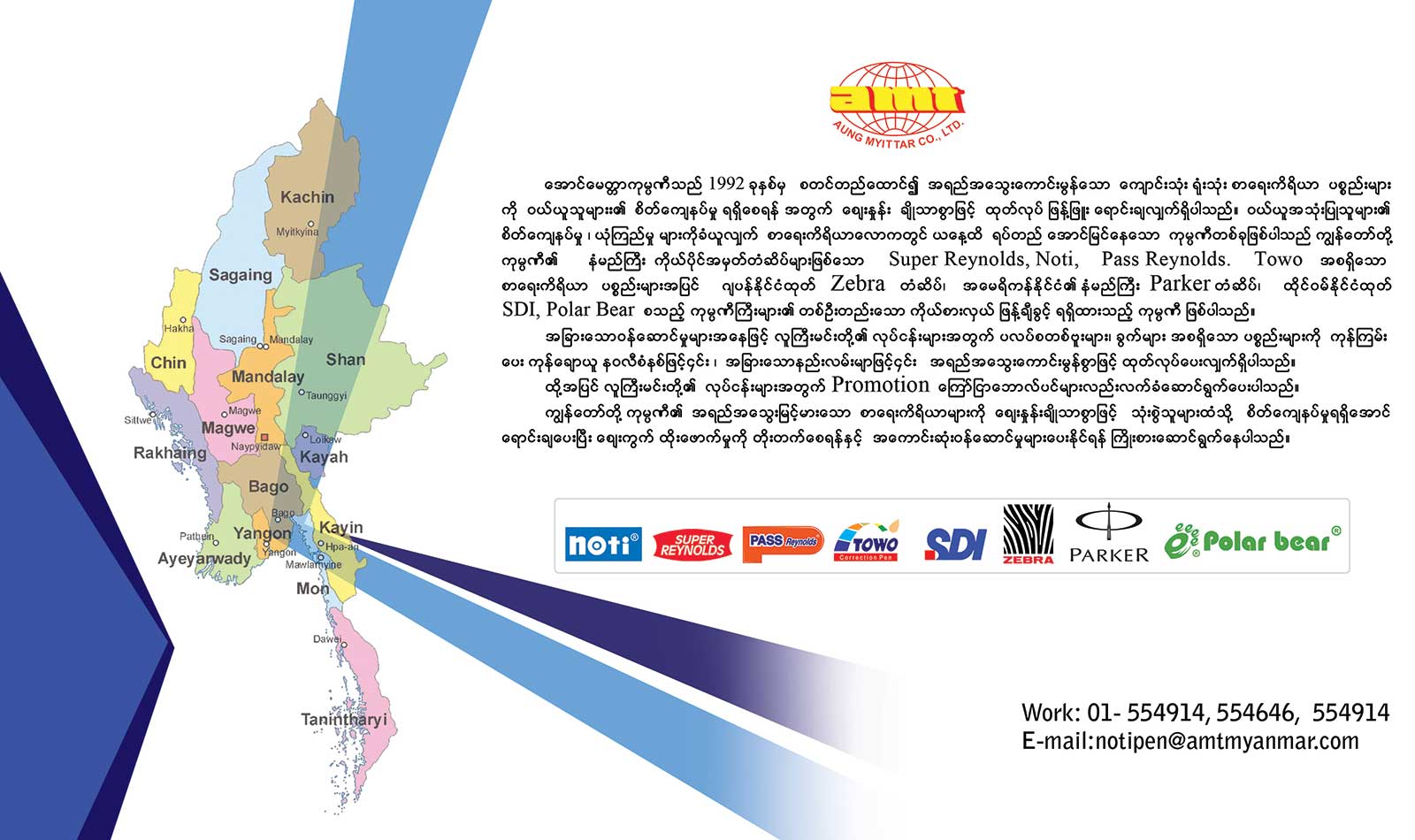 Our Values:
How We Work
Our core strength in delivering customers' satisfactions with high-quality writing tools at an affordable price enabled the company to grow its size and sales revenue. We strive to serve customers better through our well-trained front-line employees. We distribute our company's resources in the order of customers, employees, and shareholders.
What we look for
We are looking for people who have a passion in the industry of distribution and logistics. Today, we are allocating resources to engage employees considering their long-term career development within our company. Also, we like to hire people who think they are smarter than their boss.
What we offer
We are a medium enterprise of family business under Prince Group of Company. The company recognizes teamwork and assignment of split responsibility in order to become a good job company. Family members working in the business takes responsibility of both employees' basic needs and higher needs. We places customer as our most important stakeholder for the business.
Employees receive lots of advices related to their responsibility for family members, careers, and spiritual counseling.